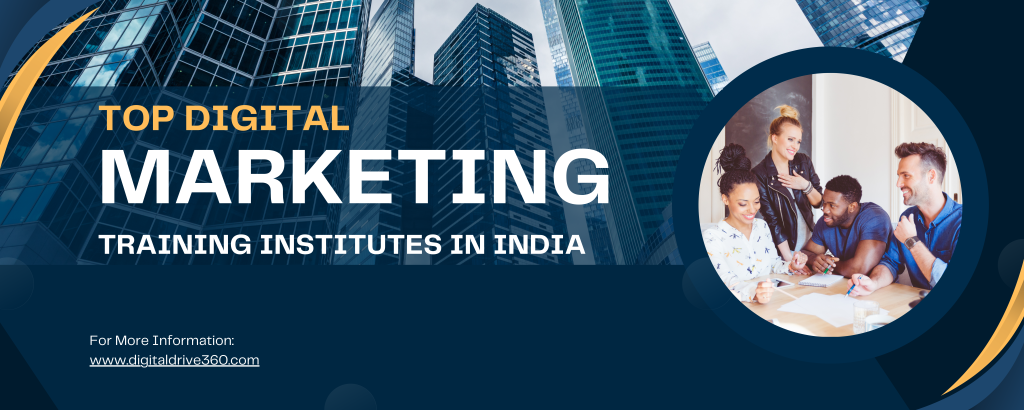 The use of digital platforms and social media to reach out to potential customers is referred to as Digital Marketing. Digital marketing includes several things that include brand promotions, brand authority, advertising, and connecting with customers- and many other things.
Some of the most reputed digital marketing institutes are:
Digital Drive 360
This is the best Digital Marketing institute that also has a very good reputation. This institute provides several courses and these include Digital Marketing, Digital & Social Selling, Strategy and Planning, Social Media, Mobile Marketing, and Search Marketing. You need to choose your area of interest and also find out which course suits your exact requirements. Several companies across the globe do have an online presence today. It is for this reason that you will find that Digital marketing students have several career opportunities. Here in this institute, the students are taught by the best and the most professional industry experts. The teachers here are also highly qualified. They are also very much experienced. These trainers will have both a professional as well as a practical approach to the project. They will also explain all the concepts clearly and help you to understand the topics with situational examples that will make it easier for you to understand the various concepts. Here the students also get the opportunity to work on the live projects and are also provided with some of the best notes. This makes it easier for the students to get a better understanding of the latest trends and technologies. They can learn quickly.
IIDE- The digital school
This is one of the premier institutes for digital marketing. They are experts in providing training that is relevant to the industry. Their comprehensive curriculum also includes technical digital marketing education that aligns very well with corporate expectations. The digital marketing courses of this institute are flexible which means that the candidates will be able to enrol either in an online or an offline mode. The primary goal of this institute is to make digital marketing education accessible to all aspiring marketers and students. This institute also offers a range of digital marketing courses that cater to students, freshers as well as marketing professionals. The courses provided by this institute include an advanced Course in Digital Marketing (4 months), the MBA-level PG Course in Digital Marketing (11 months), and 13+ Short Term Certificate Courses in Digital Marketing Niches (6-12 hours). College students who are yet to graduate and want basic to advanced digital marketing training can opt for the 4-month course while marketers or freshers who are interested in upskilling themselves in a particular specialization will also be able to choose the MBA in digital marketing.
DMTI
DMTI has been teaching and also preparing digital marketing professionals with the highest degree of practical skills and basic principles that helps them to succeed in the dynamic world of online marketing since the year 2009. The DMTI courses are designed in a way that anyone interested in becoming an e-marketer will be able to benefit from them. Their accreditation will also help you to create, develop, as well as implement effective digital marketing plans and strategies for the company irrespective of the size. This institute has trained over 10,000 students trained. The courses that they provide include Advanced Digital Marketing Diploma and also a Master 1-year Digital Marketing Certification.
Digital Academy India
Digital Academy India aims to empower the nation with digital acumen. This institute realized the tangible effect of the digital element in the marketing sector, very quickly and therefore, it came up with various bespoke digital marketing institutes for the aspirants. Some of their courses in the field of Digital Marketing include Digital Marketing Course Certification, Certified Digital Marketing Associate Course, Social Media and Mobile Marketing Course, Certification in Search Marketing and Corporate Digital Marketing Training Program
Digital Vidya
Digital Vidya provides courses in Digital Marketing and Data Science. The primary objective of the institute is to impart new-age skills to aspirants- be they individuals or organizations. They provide several courses that include Digital marketing, Data Science, Behavioral Training, Financial Management, and Visualization and Reporting. This institute is quite a big name in Asia. There are two types of training- Classroom training -3 months and Online Training – Regular course-7 months and the Fast track- 4 months.
Post Graduate Programme in Digital Marketing and Branding by NIIT
Post Graduate Program in Digital Marketing is an online venture for graduates that provide them with excellent careers in the field of Digital Marketing. This is an industry-specific program that provides students with an in-depth knowledge in SEO, SEM, SMM, Email Marketing, Mobile Marketing, Inbound Marketing, Content Planning, and a host of other functional areas. In the course provided by this institute, you get to know about the fundamentals of Marketing and Media, Tools and Techniques in Digital Marketing, Advanced Digital Marketing, Preparations for Certifications of Google and Facebook, Professionals skills training inclusive of soft skills and interview tips.
Simplilearn
Simplilearn addresses the unique needs of individuals and working professionals, and provides extensive training and coaching to uptick their career growth. Some of the skills that are covered include Digital Marketing, Customer Lifecycle Management, Marketing Analytics, Mobile Marketing and IoT Marketing
The most important objective of UpGrad is to bring about a difference in the lives of working professionals by allowing them to upskill while they work. They have developed online learning as dynamic as a classroom setup to provide quality education to the future workforce through the UG and PG programs. The courses offered by this institute is the Advanced Certificate in Digital Marketing and Communication
NIDM
NIDM (National Institute Of Digital Marketing) Bangalore is one of the Best Digital Marketing Institutes. Their courses are based on practical experience and are completely job-oriented. The digital marketing courses are designed for those who are interested to implement a Digital Marketing strategy in their company. The content is designed in a way, to guarantee that your firm has a solid foundation for its digital marketing plan, as well as advanced content that the students will be able to use immediately. The courses that are offered include Dynamic Digital Marketing, Hybrid Digital Marketing and Advanced Digital Marketing
LIPS
LIPS is another excellent digital marketing training institute in Mumbai. Their Digital Marketing Course is the result of the collaboration between a group of industry veterans from IIM, IIT, and other firms. The primary objective of this course is to close the gap between our current educational system and the rapidly changing corporate environment. Their programme is also designed to prepare students for employment once they complete their studies. Their programme is designed in a way to prepare students for employment as soon as they complete their studies. They also permit their students to spend money each month on Google Ads and Social Media Ads to help them understand how real-world campaigns are conducted. The courses offered by this institute include the Digital Marketing Course in Pune and the Digital Marketing Course Online.
Conclusion
Digital marketing is using every other form of digital communication like social media marketing, email marketing, web-based advertising, text, and multimedia marketing. The digital marketing industry is an ever-evolving large industry, and there are no chances of career stagnation as long provided you are eager to learn new things.